DOMUS : Deep Observatory for Multidisciplinary Underground Science
The Laboratoire Souterrain de Modane, LSM, created in 1982, is a deep underground site for experiments requiring an extremely low-background environment. The LSM is the deepest European underground laboratory with an overburden of 4800 m.w.e.
The laboratory is jointly operated by the CNRS (Centre National de la Recherche Scientifique) and CEA (Commissariat à l'Energie Atomique). Presently the laboratory is hosting the EDELWEISS-II experiment for dark matter search, the NEMO3 experiment for neutrinoless-double beta decay search, a low-level gamma spectrometry facility with 14 detectors for environmental measurements and material selection, and systems for testing semiconductor static memories.
The creation of a new 17000 m3 laboratory takes advantage of the recent decision of Italian and French governments who agreed to dig a safety gallery in parallel to the existing highway tunnel.
Thanks to this opportunity, the new facility, which will be ready by 2015, will be able to address the underground needs of next generation experiments in dark matter and neutrino physics, together with other research fields, like sedimentology, geology, biology, engineering, low-radioactivity measurements, ...
The Scientific Advisory Committee has reviewed the 12 letters of intent (plus 1 expression of interest) received and presented at the workshop held in Modane on September 16, 2009. Read the conclusions.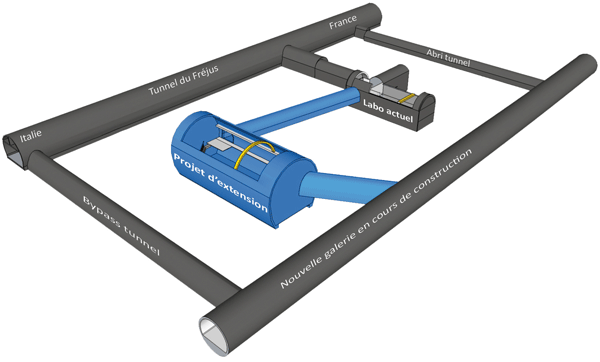 The extension project of the laboratory has been registered by the Ministry of Research as a priority project in its roadmap